Well I could summarize the weekend with one word: rain! There was plenty of it! Friday night we took the kids to the aquarium. I recommend Friday nights there to anyone, it's much less crowded, no lines at the tanks, and the rain forest exhibit is two times the fun at night! Evan was a little bit scared because it was dark, but I was bummed I couldn't find the monkeys. I learned a little trick from a friend that used to work there, if you jingle your car keys the monkeys will come closer to you. It has worked for me before, but I guess they might have been sleeping since it was like 8:30 at night! I will add some pictures of this later! There are a LOT!
Saturday we stayed in most of the day, but I did get a little shopping done for Avery's birthday! I bought her some cute stuff, I'll post pics Saturday after she opens them!
Today was wild! I took the kids up to a friend's house in York, PA and we experienced our first ever tornado. Now mind you it was VERY mild, but it was still pretty scary! The hail was so loud on my car I was sure it was leaving dents. The roads were flooding fast and there was absolutely NO visibility!! We parked under an underpass for a few minutes and tried to keep going after the swirling clouds and wind died down, but then the hail picked up and it was impossible to drive! It woke Evan up from his nap and he was pretty scared! I was surprised at how many people kept on driving even though you couldn't see anything! There were car accidents everywhere. I even saw one guy driving his mustang with the front bumper dangling off...he didn't seem to even care!
Left- Under the underpass, when we saw the swirling clouds!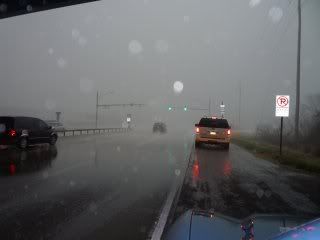 The hail! It was 60-some degrees when this was happening! It looked like an ice storm had just hit!
The flooding!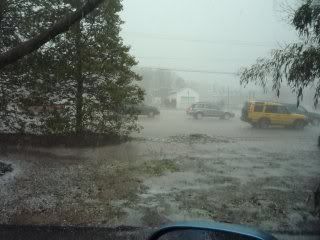 More Pictures
&
Link